PREPARED MEALS
Family & Single Bakes
Sauces & Dressing
Antipasto Platters
Pastry Goods
Meats
a
Get in contact now. While stocks last!
a
For more information & Orders
Check out our online store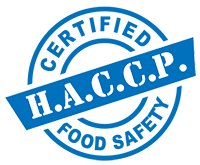 HACCP ACCREDITATION
We are proud of the time and effort we put into our production and quality assurance. The hard work by the team has gained us a HACCP Accreditation. An award/title that we strive to maintain and surpass.