Meet Andrew
South Australian born Andrew Fielke is a talented, award-winning chef with many years of international experience, working in Switzerland, Austria and London's prestigious Savoy Hotel.
On returning to Australia in the mid-'80s, his imagination and interest in Australia's largely overlooked native food resources were sparked by the discovery of a fledgeling distribution company selling "wild foods". Since then Andrew's creative energy has focused on devising exciting dishes and pioneering a new direction for a "creative native Australian cuisine".
He continues refining his craft using amazing 60,000-year-old ingredients together with conventional foods to create truly special dishes, utilising the unique textures and stunning flavours of nutritious nuts, seeds, fruits and herbs like Bunya Nut, Lemon Myrtle and Quandong – foods savoured by the Australian Aborigines over the millennium.
1992 saw the opening of the first Red Ochre Restaurant in Adelaide, South Australia, featuring consistently superb, innovative cuisine, wines and ambience. The restaurant attracted exceptional international exposure and many awards including the "Australian National Tourism Award" for restaurants in 1996. Cairns Red Ochre (Far North Queensland) opened in 1994 and Alice Springs (Northern Territory) in 1997.
"..what sets the Red Ochre apart, and what attracts the flocks of people who have been filling the restaurant every day since it opened, is its menu .." Marie Claire – Singapore.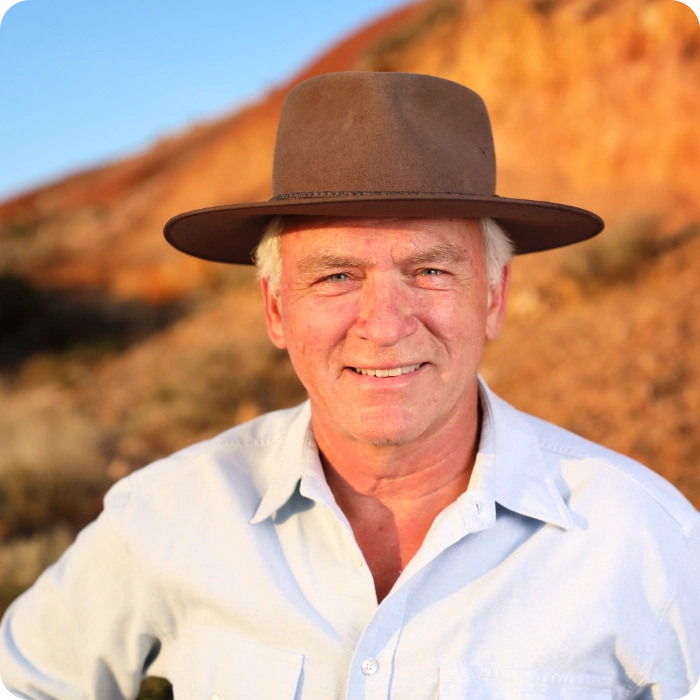 Andrew works increasingly as a consultant with a number of food manufacturers developing fabulous new retail and foodservice products.
Some are manufactured under his label: other projects use conventional or Australian ingredients, expanding client's product offerings. He also consults to assorted food industry bodies, wineries, restaurants and government departments.
Andrew has also been very active in the developing native food industry as one of the founding committee members of the peak industry body, Australian Native Food Industry Ltd. Incorporated in 2006, he was the inaugural Chairman, a position he held for two three year tenures. He resigned early in 2016 to focus on his increasingly busy foodservice business.
Andrew has also presented 33 food and wine segments on the Nexus program broadcast initially through greater Asia. The segments are "produce-driven" with stylish recipes with an emphasis on food and wine matching. He periodically appears on national TV cooking programs and the "lifestyle" channel for Foxtel.
"…Mr Fielke cooks some of the best food I've ever eaten in a long time. His cuisine goes beyond modern Australian food…" Stan Sesser – The Asian Wall Street Journal, December 14, 2001.
Since leaving the restaurant industry in 2001, his focus has been on building his CREATIVE NATIVE FOOD SERVICE business, certainly, the most comprehensive supply service of raw and value-added native ingredients available to the food manufacturing and hospitality industries.
Andrew resides in Adelaide with his wife Kaye and three children.
Andrew's Bio
From 2011: Tuckeroo Gourmet Foods – owner retail business manufacturing/marketing/distributing Tuckeroo retail products
From 2001: Andrew Fielke Enterprises owner/director – Consulting and Guest Chef, Creative Native Food Service Range, TV Presenter, Educator
February 1999 to August 2001: Chef, Red Ochre Restaurant, Adelaide (new location).  
June 1992 to July 1998: Chef/Proprietor, Red Ochre Grill Restaurant, Adelaide.
September 1992 to November 1998: Director, Australian Native Produce Industries Pty Ltd. Native food production kitchen, plantation and nursery.
June 1987 to October 1993: Owner/Manager, Bush Tucker Supply (S.A.) – native food collection and distribution network.
February 1991 to March 1992: Chef, Edinburgh Hotel, Adelaide.
March 1990 to December 1990: Chef, Fish on Melbourne St., Adelaide.
August 1989 to December 1989: Part time Cookery Lecturer Regency Park College, Adelaide. Consulting Chef, The Astor Hotel, Adelaide.
January 1987 to July 1989: Chef/Proprietor, Tally Ho Lodge, Inglewood, SA.
December 1985 to December 1986: Chef de Cuisine, Mt. Lofty House. SA.
December 1984 to April 1985: Chef de Cuisine, Underground Grill Restaurant, Tirol, Austria.
November 1983 to November 1984: Commis Entremetier, Chef Potagier/Chef Saucier, The Savoy Hotel, London, U.K.
June to September 1982, 1983 & 1985: Chef de Cuisine, Breathtaker Ski Lodge, Mt. Buller, Victoria.
August 1981 to May 1982: Chef de Cuisine, Stonyfell Restaurant, South Australia.
July 1980 to June 1981: Commis de Cuisine, Movenpick and Holiday Inn Hotel, Regensdorf-Zurich, Switzerland.
February 1976 to May 1980: Apprentice Cook, Hotel Australia, South Australia.
BOARD APPOINTMENTS:
Dec 2006 and 2013 – Australian Native Food Industries Ltd. – National Peak Industry Body – Inaugural Chair, 2 x 3-year terms – now resigned
1995 – Meat & Livestock Association SA – Advisory Board member
Australia's Creative Native Cuisine
Chef and Creative Native Foods founder Andrew Fielke's beautiful new book brings native-inspired cooking to your kitchen.
'Australia's Creative Native Cuisine' pays homage to the 60,000+ years of indigenous culture with more than 130 unique recipes highlighting Australian native ingredients.
Native foods never looked or tasted so good and Andrew's more than 35 years of experience plays an integral role in creating these delicious and easy-to-cook meals.
Click the image to secure your hard or soft cover copy today!
Australia's Creative Native Cuisine
Softcover or Hardcover
$49.99
"An important work dedicated to the native foods of Australia which holds a wealth of inspiring knowledge."
René Redzepi
Noma, Denmark
Retail and Wholesale Enquiries
75a Orsmond St, Hindmarsh SA 5007
sales@creativenativefoods.com.au
Monday - Friday, 9am - 4pm (ACST) We acknowledge the Traditional Owners of the land in which we live and work on. We pay our respects to their elders past, present and emerging. Sovereignty was never ceded. Retail and Wholesale Enquiries
75a Orsmond St, Hindmarsh SA 5007
sales@creativenativefoods.com.au
Monday - Friday, 9am - 4pm (ACST) We acknowledge the Traditional Owners of the land in which we live and work on. We pay our respects to their elders past, present and emerging. Sovereignty was never ceded.