We were officially advised by Edouard Cointreau, President, Gourmand Awards that "Australia's Creative Native Cuisine" is the Winner for Australia in the category D16 Indigenous Foods of the Gourmand World Cookbook Awards.
All winners are listed on the Winter List on their site HERE.
The next step is that we will represent Australia in the same category in the Best in the World competition of the Gourmand World Cookbook Awards. The results will be announced Saturday June 5 2021 in the afternoon at Paris Cookbook Fair in the Louvre Tuileries Gardens.
As their web site states "The Winter Harvest list is published on November 23, 2020. It is the final list of the year, including all other Harvest lists of 2020. The list includes all the Winners by countries in each category. There is only one Winner by country in each category, except when books are in different languages. Includes the Spring Harvest list, published April 23, the Summer Harvest list published July 23, the Autumn list published September 23.
It is the final list with all the participants in the Best in the World competition of 2021. There are now 1288 entries, from 175 countries and regions. All will participate in the next Gourmand Awards, with the Best in the World announced in Paris June 3-6, 2021. All those on the Winter Harvest list already have the right to the Winners certificates and stickers.
We have approximately 20% more entries this year than last year. The cookbook activity has been intense in 2020, a consequence of the pandemic and confinement. There is much digital publishing, but print is also increasing. We created the new category A01 for Covid-19 cookbooks."
Congratulations to Andrew and the team, Tony Lewis the photographer and Brolly Books co-author and publisher.
The full list of Australian winners below: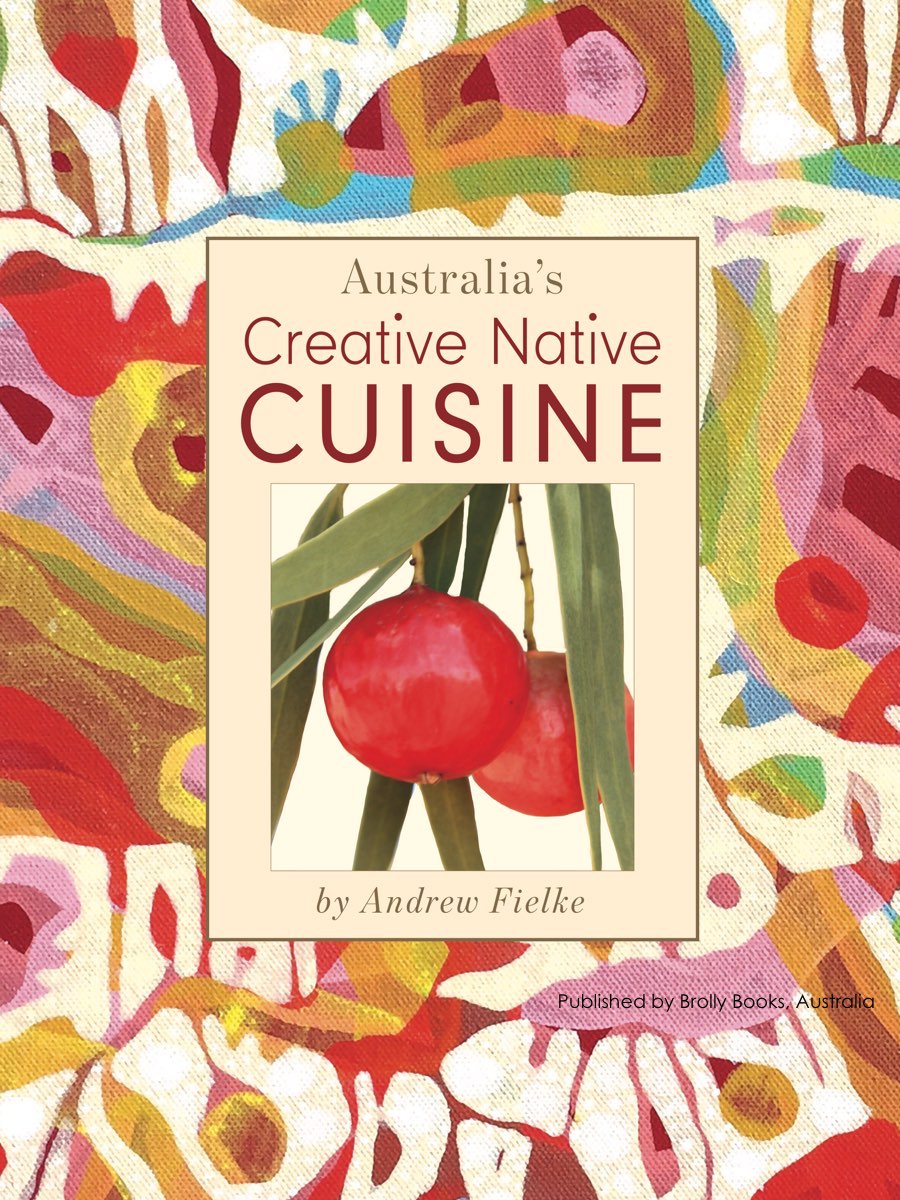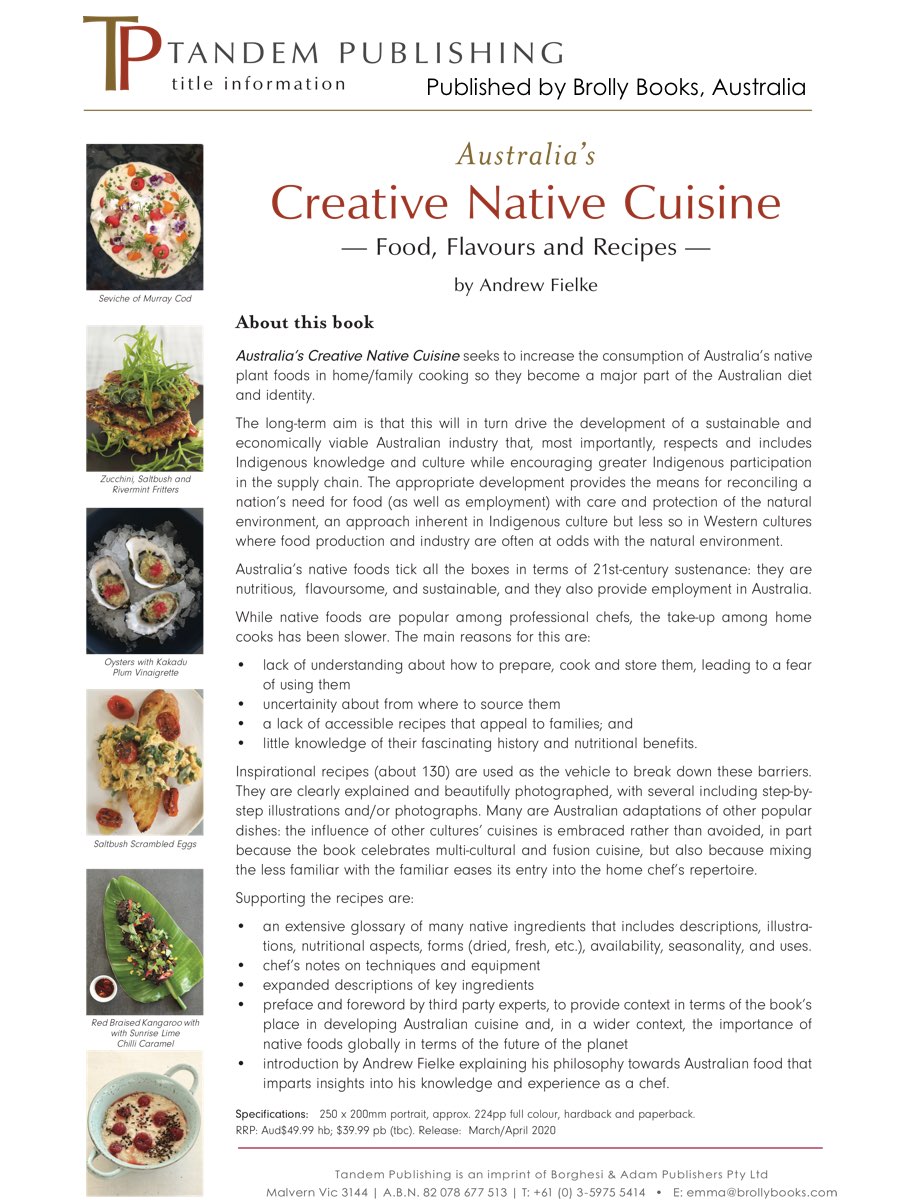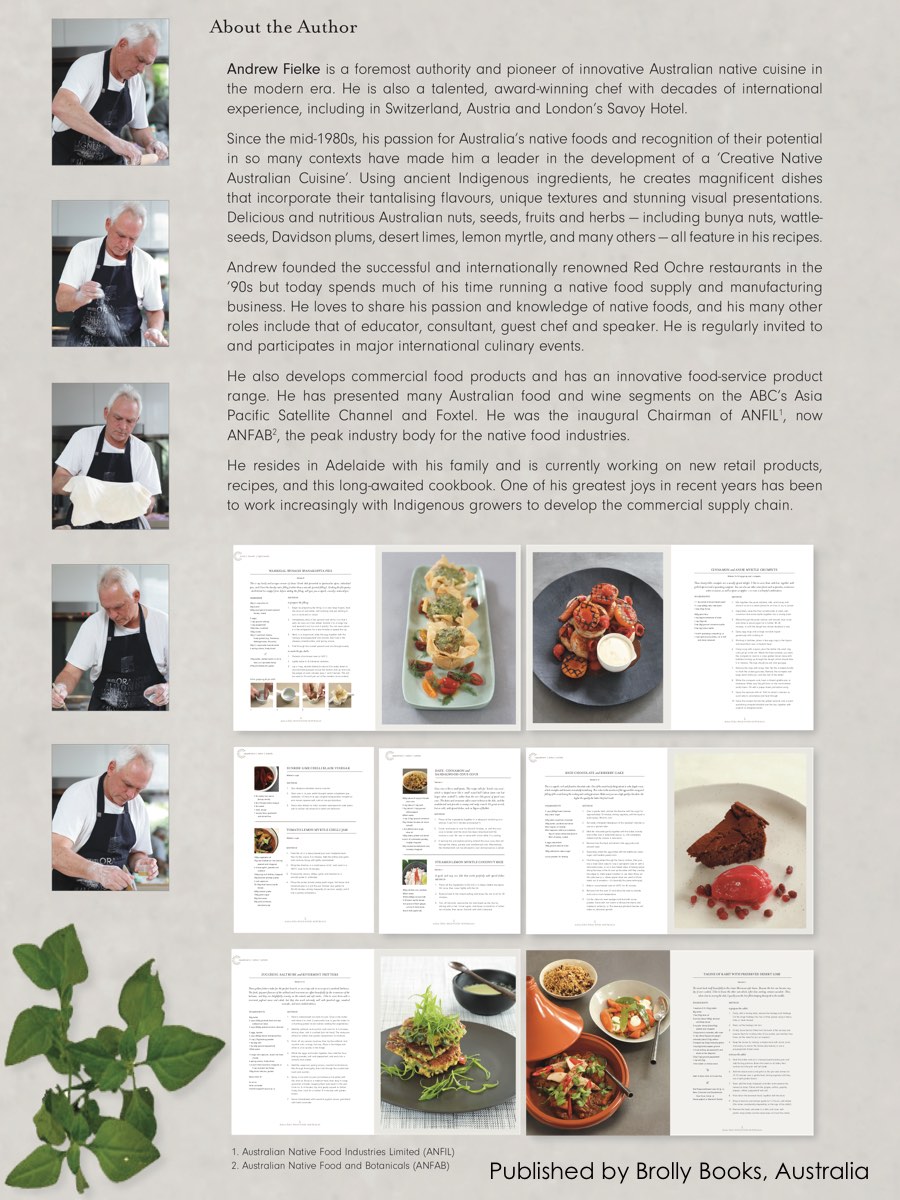 Australia Winners   2020
A – AUTHORS
A01 FOOD BOOKS FIGHTING COVID 19
Australia – Winter Wild, Celebrating Winter Festivals in Tasmania & around the world, Janice Sutton, Dearna Bond (Covid Homework, for Southern Hemisphere Winter 2021)
A04 WOMAN CHEF  BOOK
Australia -Always add lemon, Danielle Alvarez (Hardie Grant)
A06 SPECIAL AWARDS – BOOKS
Australia – Why Vegan, Peter Singer (Penguin Classics)
A06 SPECIAL AWARDS – FREE PDF 
Australia – Share a meal, share a conversation (Beehive Industries) 72 pages
A07 CELEBRITY CHEF – ENGLISH
Australia – Sweet Savory Spicy, Sarah Tiong (Page Street)
A10 INNOVATIVE
Australia – Cooking with the oldest food on earth, John Newton (New South)
A11 ENTERTAINING
Australia – The Viking Feast, Sven Almenning, Greg Sanderson, The Mjolner Teams (Speakeasy Group)
A12 FIRST COOKBOOK
Australia – Confidence in the Kitchen, Emmylou MacCarthy (Pan Macmillan)
A13 BLOGGER
Australia – Eat your way slim & healthy, Bridget Davis (Murdoch Books)
A14 SELF PUBLISHED
Australia – Miss Chardy's guide to station cooking
B – PUBLISHING
B01 SPECIALIZED COOKBOOK PUBLISHER
Australia – New Voices in Food, Volume 1 (Somekind Press) Vaughan Mossop, Simon Davis
B02 BEST OF THE BEST CANDIDATES FREE PDF
Australia – The Life you can save, Peter Singer (The life you can save)
B02 AUDIO
Australia – The life you can save, Peter Singer (Life you can save)
B06 PHOTOGRAPHY
Australia – Low carb, Photo Craig Kinder (Thermomix Australia)
B08 DESIGN
Australia – Book of Life (Gippslandia)
B10 SERIES
Australia – Two Old Fools Down Under, Volume 6, Victoria Twead
B11 CORPORATE
Australia – Book of Life (Gippslandia)
B16 BESTSELLERS
Australia – Australian Food, Bill Grainger (Murdoch Books) Author sold 1 million books
B22 UNIVERSITY PRESS
Australia – Meatsplaining, Jason Hannan (Sydney University Press)
C – COUNTRIES & REGIONS
C02 INTERNATIONAL
Australia – The Atlas Cookbook, Charlie Carrington (Hardie Grant)
 C04 ITALIAN
Australia – Nadia's Italian, Mix it your way, Nadia dei Rocini
 C05 MEDITERRANEAN – DUN GIFFORD AWARD
Australia – Beyond the Greek Salad, Ruth Bardis
C06 NORDIC
Australia – The Viking Feast, Sven Almenning, Greg Sanderson, The Mjolner Teams (Speakeasy Group)
 C09 CHINESE
Australia – This is a book about dumplings, Brendan Pang (Page Street)
 C10 INDIAN / SRI LANKAN
Australia – A Kitchen well-travelled, Sai Yoganathan (Eunola)
 C12 MUSLIM
Australia – Parwana, Durkhanai Ayubi (Murdoch Books)
 C15 STREET FOOD
Australia – Sweet, Savory, Spicy, Sarah Tiong (Page Street)
 C18 ASIAN – PUBLISHED OUTSIDE ASIA
Australia – Around Asia (Thermomix Australia)
 C20 LATIN AMERICAN – PUBLISHED OUTSIDE LATIN AMERICA
Australia – Comida Mexicana, Rosa Cienfuegos (Smith Street Books)
 C26 MIGRANTS
Australia – Share a meal, Share a story (Australia Refugee Council)
 D – LIFESTYLE
D01 CLIMATE & FOOD BOOKS
Australia – Meatsplaining, Jason Hannan (Sydney University Press)
 D01 FOOD WASTE
Australia – A repurposed life, Oz Harvest, Ronni Kahn (Murdoch Books)
 D01 SUSTAINABLE – BOOKS
Australia – Food & Nutrition, Sustainable Food & Health, 4th edition, Mark Wahlqvist, Danielle Gallegos (Allen & Unwin)
 D02 HEALTH & NUTRITION
Australia – e.a.t., Jessica Cox (ICN Clinic)
D03 CHILDREN
Australia – Cadbury Children's Birthday Cake (Australian Women Weekly) Free
 D08 FOOD SECURITY – FREE
Australia – The Life you can save, Peter Singer (The Life you can save)
 D08 FOOD SAFETY
Australia – Sous vide, Food safety precautions for restaurants (NSW Food Authority) 31 pages, Free PDF
 D09 HEALTH PROFESSIONALS BOOKS
Australia – Food & Nutrition, 4th edition, Mark Wahlqvist, Danielle Gallegos (Allen & Unwin)
 D10 DIET BOOKS
Australia – The CSIRO Low-Carb Diabetes Diet & Lifestyle Solution, Grant Brinkworth, Pennie Taylor (Macmillan)
 D11 FAMILY
Australia – A year of simple family food, Julia Busuttil Nishimura (Plum – Pan Macmillan)
 D12 SENIORS BOOKS- FREE PDF
Australia – Share a meal, share a conversation (Beehive Industries) 72 pages
 D13 FOOD & SPORTS
Australia – Snack Power, Tiffiny Hall (Murdoch Books)
 D15 NATURAL FOOD
Australia – Substitute With Natives! Aussie Native Ingredients Substitution Guidebook, Rebecca Sullivan (Warndu) Free PDF
 D16 INDIGENOUS FOODS – BOOKS
Australia – Australia's creative native cuisine, Andrew Fielke (Brolly books)
E – SUBJECTS
E01 EASY RECIPES AT HOME
Australia – Everyday Fresh, Donna Hay (Harper Collins)
 E02 SINGLE SUBJECT
Australia – Saturday Night Pasta, Elizabeth Hewson (Plum)
 E03 DESSERTS & PASTRY
Australia – Beatrix Bakes; Natalie Paull (Hardie Grant)
 E04 BARBECUE & GRILL
Australia – Australia's own cookbook for the Weber Q Ross McDonald, Margaret Kirkwood (Weber Australia)
 E06 VEGETARIAN
Australia – Satya's Vegetarian Kitchen, Satya Prasad (X-Libris)
 E07 CHOCOLATE
Australia – Cadbury Children's Birthday Cake (Australia Woman Weekly) Free
 E10 MUSHROOMS & TRUFFLES
Australia – The Australian Mushroom Journal (AMGA – Mushroom Fund)
 E12 MEAT – BOOKS
Australia – The Ultimate Companion to Meat, Anthony Puharich, Libby Travers (Countryman Press)
 E13 VEGAN
Australia – Vegan Interior Design, Aline Dürr (Vegan Interior Design)
 E15 BREAKFAST
Australia – Brunch in Melbourne, Thérèse Nichols (Kickstarter – One Plate)
F – FUND RAISING – CHARITY
F06 OCEANIA
Australia – Brunch in Melbourne, Thérèse Nichols, Georgia Gold, Meryl Battle (One Plate)
Australia – The ACYA cook book
DRINKS
W1 WORLD OF WINE
W1-10 FREE FOR PROFESSIONALS
Australia – "The Dog Book", Agrochemicals registered for use in Australian viticulture 20/21 (Australian Wine
 W2 OTHER DRINKS
W2-5 COCKTAILS
Australia – The Viking Feast, Sven Almenning, Greg Sanderson, The Mjolner Teams (Speakeasy Group)
 W3 LIFESTYLE
W3-1 HISTORY
Australia – Intoxicating, Max Allen (Thames & Hudson)
W3-3 ILLUSTRATIONS
Australia – Australia's beer posters, volume1, Michael Bannenberg (Wilkinson)
W3-4 NOVEL
Australia – The Champagne War, Fiona McIntosh (McIntosh Books – PRH)